Ubisoft has just released a new Rainbow Six Siege Buck Elite skin.
After a few disliked elite sets (Echo & Dokkaebi), the developer has prepared more operator's theme fitting set for OG Canadian attacker from Y1S1.
The title of Buck's Elite Set is Snowdrift Expert, which is a great idea for a character from the Great White North.
The set has mountains and snow feel to it, similar to Frost's elite set. We're glad to see that not every new elite skin in R6 Siege will be having some head-scratching dance, with highly questionable music to it.
The below trailer showcases the Buck elite set, without MVP animation:
Buck Elite Skin:
Release & Content
Buck's skin has been leaked more than a month ago (in August). As usual, the leak has been real, which we are happy about in this particular case.
As usual, the Buck elite set has been released quietly, without any marketing or teaser before.
Though, considering all the leaks that proceed releases of elite sets, any marketing actions would make not much of a sense.
This new Rainbow Six Siege Elite set has been released on the 7th of October 2020, with the below tweet on the official Rainbow Six Siege UK Twitter account:
Buck is now a Snowdrift Expert with his new Elite skin! Includes uniform, victory animation, weapon and gadget skin, and chibi charm! Available now in-game!
💰 1800 R6C pic.twitter.com/inwRd2qzyg

— Rainbow 6 Siege UK (@Rainbow6_UK) October 6, 2020
The new R6 Buck Elite Skin includes the following items:
Elite Headgear
Elite Uniform
Skeleton Key gadget skin (a unique ability)
MVP animation
Buck elite charm
C8-SFW weapon skin (AR)
CAMRS weapon skin (DMR)
MK1 9mm weapon skin (Pistol)
Weapon skins fit extremely well with the white accents of the uniform.
The only downside of the uniform is its brightness, especially for the headgear. This may be a downside when playing on maps with darker objects.
Buck elite skin costs 1800 R6 Credits for players who did not purchase Year 5 Season Pass.
For Year 5 Season Pass holders, this skin costs 1620 R6 Credits.
You can purchase R6 Credits in-game for:
600 Credits is 5$
1200 Credits equals 10$
2670 Credits is 20$
Since we are not given the option to purchase 1600/1800 credits, we have to either combine 600 & 1200 options (15$) or buy a 2670 Credit pack (20$).
Please note that currency pack prices may differ depending on your geographical location!
Which elite skin we
will get next?
The Lord's expected rework together with his elite skin has been leaked also over a month ago.
Here is the MVP animation of Lord and Savior elite skin:
On 7th of October 5 pm UTC Ubisoft will reveal more about Tachanka:
Do you like Buck's Elite Skin?
Which operator do you think should get elite skin next?
Let us know in the comment below!
Be the first to know about new content!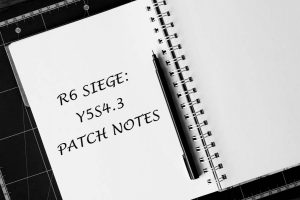 Mid season reinforcements for Y5S4 are available now! Rainbow Six Siege got operator balancing – Ash & Zofia nerfs. Buck, Kali & Echo buffs.
Check here the full Y5S4.3 patch notes.
Read More
Operation Neon Dawn has been released by Ubisoft. The last season of Year 5 adds new defender – Aruni – and introduces tons of other changes!
Read More