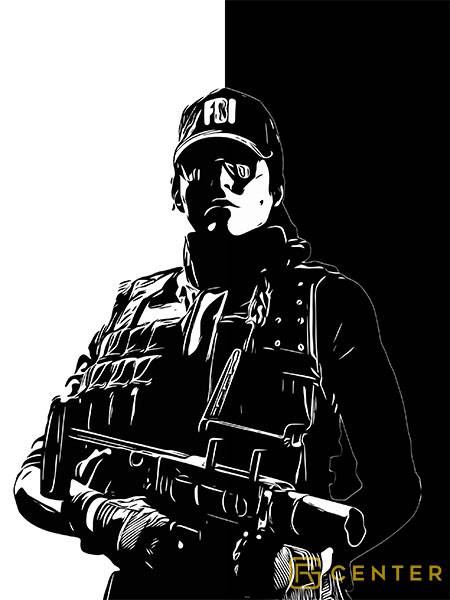 Powerful gun – R4C

Three-speed

Versatile utility

Ranged breaching potential
One armor

Lacks ACOG on R4C

Limited breaching capacity
Ash R6 Siege operator is a great entry fragger that adds value to the team by providing ranged SOFT-breaching ability, as well as clearing defenders' utility.
She is best played decisively and aggressively to put her team in man count advantage.
Born and raised in Jerusalem, Israel, Cohen enrolled at Tel Aviv University after secondary school in the Engineering program. It was during this time she did a semester abroad at Boston University. After college, she enlisted in the Israeli Defense Forces. Her engineering background made her a great candidate for mechanical maintenance and demolitions.
She was later transferred to FBI SWAT due to an international law enforcement exchange program. 
Cohen brought her knowledge of demolitions with her in producing a weapon-mounted breach charge capable of blowing open a door or wall from a distance.
Detailed information on how to play Ash R6 Siege operator
Ash R6 Siege operator is equipped with ranged Soft breaching utility called Breaching rounds.
In Rainbow Six Siege Ash can shoot 2 Breaching rounds, which are capable of:
opening a vaultable or passable hole in unreinforced walls

destroying unreinforced hatches

creating a line of sight in a partially destructible ceiling/floor

destroying utility placed within the explosion radius

damaging operators present within round's range
From the utility point of view, Ash is
closest to Zofia.
Both operators' utility allows breaching from any distance as long as there's a line of sight. 
As a ranged soft breacher in Rainbow Six Siege Ash shines in situations where:
She can create a line of sight

Especially useful in a ceiling or floor. It helps her to destroy defenders' gadgets preventing attacking progress or defenders themselves.

Example:

Chalet's Snowmobile garage. Rainbow Six Siege Ash can help from above with either opening

Mira

window or getting rid of Bandit's batteries, or

Bandit

himself.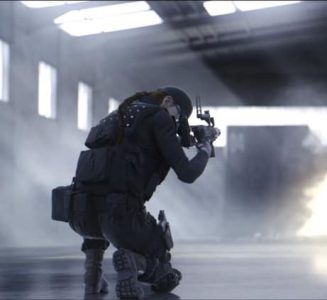 Entering a building to open a line of sight is dangerous

Such a scenario usually occurs due to potential presence or flank from roamers.

Example: Consulate's Garage where Ash can rappel on the building and open LoS in the floor through the window to clear out Bandit batteries or kill anchor behind the white van

She is capable of opening an unreinforced wall from a distance to clear out unsuspecting defender

Destroying Castle's barricade is problematic

In some cases destroying Castle's barricade can be risky without the possibility of a ranged breach. Additionally, Mute's jammer +Castle barricade combo.

She has LoS on defensive utility.
We do not have a golden rule for you to suit all situations.
Attacking in Rainbow Six Siege and using utility efficiently varies greatly even from round to round. Optimal usage of utility depends on many factors, such as map, objective, team's tactic, and also the team's composition.
However, there are a couple of rules that apply to the usage of utility and are based on a priority system:
Top priority: supporting Hard breachers & disabling Mira's mirrors
Supporting mentioned activities is usually the main reason for bringing Thatcher, Twitch as support operators. Although, in some situations, soft breachers like Ash R6 operator can get the job done, relieving pressure from both Hard breachers and support players.
Significant usage: creating new lines of sight on opponents/vertical control
Especially useful for neutralizing heavily fortified anchors from either above or below.
Lower priority: clearing defensive utility
Breaching rounds can be handy for destroying defender's traps, which are usually stacked at the entrance point to the objective. 
The most universal and best tip we can give you on the topic of using utility well is:
Communicate with your team to know what's their plan and how you can support them.
We cannot stress this enough!
This one tip can be the difference between a decent team and a juggernaut.
Rainbow Six Siege is a team play objective-based shooter. To be successful in winning rounds, and ultimately matches, you need to cooperate with your team.
Currently, in Rainbow Six Siege Ash is a counter to:
Ash can create a line of sight with her breaching rounds through the ceiling and floor, which allows her to dispatch their unique gadgets.

Additionally, she is capable of destroying Mirrors placed on unreinforced walls with breaching rounds.

Ash utility destroys Castle's barricades, even when combined with Mute's jammers.

Breaching rounds destroy Maestro's Evil eye on the explosion.

Trap operators

She can clear traps placed within the explosion radius of breaching rounds.
How to play -
Ash R6 Siege
ENTRY FRAGGER
Entry fraggers are a "tip of the spear," thus being a force to penetrate through the initial line of defense and give attackers an edge.
Such a role assignment means Rainbow Six Siege Ash will be the leading operator in hunting down roamers.
Hunting roamers minimizes risks of late-round flanks impacting your final objective push negatively.
Check our guide dedicated to roam clear to learn more.
As a fragger, you are expected to be decisive and not afraid to challenge defenders!
Furthermore, entry fraggers play a vital role in advancing attackers progress during the round in Siege. Progress is achieved by securing strategically essential locations, i.e., taking control of the room above the objective site, if the ceiling is covered with the destructible surface. Or being the first attacker to control areas frequently traversed by defenders to rotate to/from the objective.
Last but not least, entry fragger is more often than not the first attacker to push anchors hunkered down on the objective. I recommend that during the preparation phase in Rainbow Six Siege, you decide on your entry point depending on: personal preferences defensive setup your teams plan of attack. Leaving your drone at your entry point will provide you with the right amount of initial intel. It is not uncommon for defenders to try to catch attackers off guard by setting up traps on entry points. You can neutralize the element of surprise for such a plan and prefire defenders (or avoid them) by knowing what they intend to do and where they are.
Who should play Ash?
Just like any other operator in Rainbow Six Siege Ash can be used by all types of players.
That said, thanks to her:
– deadly weapons
– excellent quickness as a 3-speed operator
– loadout complimenting aggressive playstyle
Ash will unleash her full potential in the hands of players who have:
– fast reflexes
– the precise aim
– fluid movement
– good game sense
– map knowledge
EASY
Easy difficulty does not mean that fragging consistently with Ash is an easy task. Being an excellent entry fragger requires skill, and playing Ash does not change that.
She is, however, easy to pick up and play effectively due to:
simple mechanically utility

able to be effective when played by a new player

non-vital utility

Three-speed 
Loadout guide -
Ash R6 Siege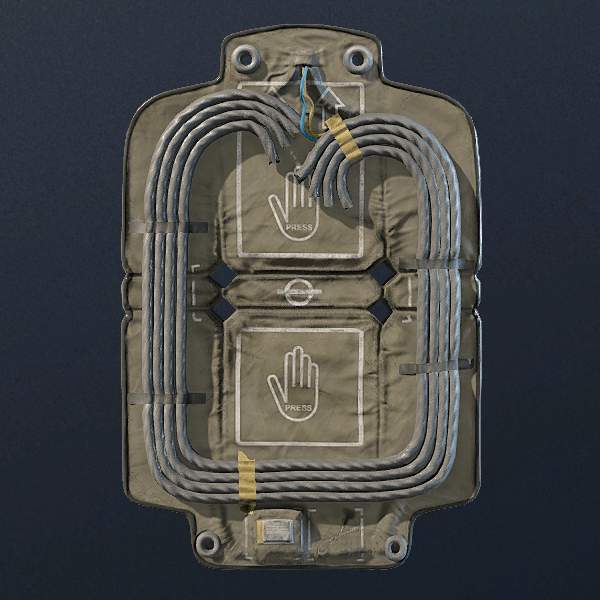 The charge allows opening a hole in unreinforced walls, hatches, and barricades.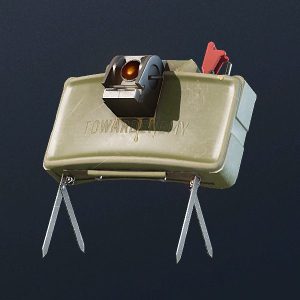 Anti-personnel explosive. Explodes when contact with the sensor is made, injuring or dealing lethal damage.
Loadout choices are an individual aspect, and rarely there is a "go-to" loadout in Rainbow Six Siege.
Sight choices are purely personal and depend on the player's playstyle, map, even objective & specific role.
Please treat the below suggestion as what it is – our preferences.
We encourage you to experiment to find your setup.
Remember, just because something works for someone else, does not mean it has to and will work for you!
Suggested loadout:
| | | | |
| --- | --- | --- | --- |
| Primary weapon | Barrel | Grip | Scope |
| R4-C | Compensator | Vertical grip | Reflex |
| | | | |
| --- | --- | --- | --- |
| Secondary weapon | Barrel | Grip | Scope |
| 5.7 USG | Muzzle brake | N/A | N/A |
PRIMARY WEAPON
We suggest using R4-C as it is a superior weapon in almost every aspect.
Equipping this weapon with a compensator helps with horizontal spread more than flash hider, especially with sprays and on longer distances.
We find vertical recoil to be manageable for R4-C, hence suggestion on the attachment which will help with horizontal control of that weapon.
Unfortunately, for Rainbow Six Siege Ash mains, she has lost access to ACOG on R4-C. Therefore you will have to pick 1x sight of your choice – for me its Reflex.
Why would you choose G36-C over R4-C?
Some players may find recoil of G36-C more manageable.
Remember that higher RoF and damage per bullet won't help, if you tend to miss your shots with specific weapons or setup.
Additionally, G36-C gives the ability to attach:
Angled grip
In an ideal world, you should always be aware of the enemy's presence before you enter a room or turn a corner and be in ADS when necessary. However, you will get caught by surprise at times by defenders when you are expecting it the least, not aiming down sight.
If you are a rushing player, you might consider angled grip as a vertical grip won't benefit you much on short distance encounters.
ACOG
If you feel much more comfortable with ACOG and want to play Ash, then G36-C is your only option.
SECONDARY WEAPON
When it comes to pistols, I prefer to have a larger magazine size than higher damage per bullet. The reason is that when I ran out of bullets with a primary weapon, the last thing I want is to run of rounds on my secondary.
Therefore, a selection of 5.7 USG – which by the way is a very good pistol with unusual 20 bullets mag and good 42 damage per bullet.
I recommend using a muzzle brake to lower recoil. A pistol will be your last resort weapon, which should not need stealth.
UNIVERSAL GADGET
In
Y5S4
, Ash has lost access to Stun grenades and has instead received a Claymore.
As a result, I would recommend bringing
breaching charges
as it allows you to double down on breaching capability. Breaching charges are great for creating vertical pressure as you can detonate them on the floor when playing above.
However, if you tend to struggle with flanks or have already too much breaching potential on your team, then grab that Claymore. You should use it to prevent defenders from sneaking up on you from behind or jumping out for a flank.
Community Videos -
Ash R6 Siege
Learn more about other operators in Rainbow Six Siege!
Or go to list of all available R6 Siege Guides
Found our website useful?
Be the first to know about new content!