Rainbow Six Siege Y5S2.2 Patch Notes
Patch Y5S2.2 has been released in the middle of July by Ubisoft for Rainbow Six Siege on PC.
Unfortunately, PS4 and Xbox players will have to wait for the deployment of changes in this update until patch
Y5S2.3
.
In this update, we do not see any changes to balancing nor gameplay features. It was rather minor and focused on the player reporting system in-game.
CHANGES TO
PLAYER REPORTING SYSTEM
The most significant aspect of the Y5S2.2 patch is a modification to options available to the R6 Siege community for reporting other players in the game.
Now we are given 3 options for reporting enemies and 4 for our teammates.
The menu can be accessed just like before via scoreboard, by clicking the enemy's name. First, you will have to click "Report" to get access to available specific reporting options.
Let's have a look at reporting options since Y5S2.2.
REPORTING OPTIONS FOR TEAMMATES:
This option should be self-explanatory. Use it to report hackers, cheaters, and boosters to request an investigation from Ubisoft.
Supposedly you will receive an email notification if the player reported by you gets banned for cheating.
We have received only a couple of such email notifications in the past, despite reporting quite a few blatant cheaters over the years. Hence we're not sure how valid such email reports from Ubisoft actually are.
Rainbow Six Siege has been struggling with grief since its release. So many ways for toxic players to hinder other players' experience due to friendly fire, gadget destruction, and much, much more.
Griefing reporting should be used for R6 players who deliberately try to screw you/your team up or are using glitches and other exploits.
Report voice abuse option allows Rainbow Six Siege players to report players who abuse verbally their teammates or use offensive language. Use this option to report racists, sexists, or any other unethical behavior.
Probably a high volume of reports of this sort on a specific player will initiate a further investigation in reported player's behavior. Though, this offense might be the hardest one to actually validate on developer's end.
This option serves the same function as voice abuse but is specifically intended for text chat abuse.
REPORTING OPTIONS FOR ENEMY PLAYERS:
Generally, the reporting system introduced with Y5S2.2 patch notes in R6 Siege is neat and has a brief, but rather clear explanation of reasoning player should use to report another player.
PATCH Y5S2.2
GAMEPLAY FIXES
ANTIVIRUS CONFLICT WITH RAINBOW SIX SIEGE
Some players experienced issues with running the game when their antivirus was active.
This issue prompted players to either disable antivirus on their PC or exclude Rainbow Six Siege folder as an exception (or other term used by various antiviruses).
Luckily with the arrival of Rainbow Six Siege patch Y5S2.2, we should not face such issues anymore.
Y5S2.2 patch fixes an issue where the operator's gadget would not always deploy correctly.
This happened when the player released the deployment button right before the completion of the deployment animation.
OTHER BUG FIXES in
Y5S2.2 patch notes:
FIXED – Various clipping, texture and vegetation issues on different maps
FIXED
– Problems with gadgets deployment inside pots in Oregon 1F Kitchen and Ace's
Selma
getting stuck on the cupboard
FIXED – Menu/UI visual fixes
FIXED – Spawn killing from Warehouse/Garage in Clubhouse
FIXED – Bottle in the basement of House can be now destroyed (lol)
If you want to check official patch notes from Ubisoft then follow
this link
.
We're always glad to see new cosmetics options! Especially for newer operators since they are usually severely lacking in this department.
The whole bundle costs:
45k Renown/1080 R6 Credits for Y5 Season Pass owners
50k Renown/1200 R6 Credits for non-Season Pass holders
Items can be purchased separately but will cost 77,500 Renown.
What do you think about new player reporting system?
Do you like Kali's DJ bundle?
Let us know in the comments below!
Be the first to know about new content!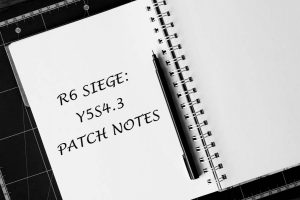 Mid season reinforcements for Y5S4 are available now! Rainbow Six Siege got operator balancing – Ash & Zofia nerfs. Buck, Kali & Echo buffs.
Check here the full Y5S4.3 patch notes.
Read More
Operation Neon Dawn has been released by Ubisoft. The last season of Year 5 adds new defender – Aruni – and introduces tons of other changes!
Read More