Rainbow Six Siege has entered Year 5 with a strong new DLC – Operation Void Edge.
With the new R6 Siege season, we gained access to two new operators, received a rework of Oregon map and few more tweaks to the game.
We have spent many hours testing out new Y5S1 operators to prepare in-depth guides. 
As always, our R6 Siege operator guides will offer you information on crucial aspects of the operator, such as:
utility
playstyle
difficulty
loadout suggestions
recommended video guides
New Dutch attacker who is a 2 speed, 2 armor operator.
Ever wanted to play as a remotely controlled mobile Alibi hologram on the attack? Now you will have a chance!
Iana's unique ability is the Gemini Replicator, which enables her to generate a hologram of Iana. The hologram is controlled by Iana. It looks, moves and sounds like Iana, but is incapable of a melee attack, shooting guns or using gadgets.
Iana's hologram will serve primarily as a diversion tool and intel gathering utility.
CLICK LINK BUTTON TO VIEW FULL OPERATOR GUIDE
The newest defender in Rainbow Six Siege is from Jordan. 
Have you ever wanted what a cross of Sledge & Amaru would look like on defense? No worries, we didn't either.
Oryx unique abilities are:
CLICK LINK BUTTON TO VIEW FULL OPERATOR GUIDE
We have also updated other operators guides with the recent changes, buffs and nerfs. Make sure to check out operators section.
What do you think about newest Y5S1 additions to the R6 operators' roster?
Do you think they will have a significant impact on META?
Be the first to know about new content!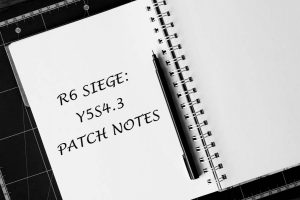 Mid season reinforcements for Y5S4 are available now! Rainbow Six Siege got operator balancing – Ash & Zofia nerfs. Buck, Kali & Echo buffs.
Check here the full Y5S4.3 patch notes.
Read More
Operation Neon Dawn has been released by Ubisoft. The last season of Year 5 adds new defender – Aruni – and introduces tons of other changes!
Read More